Photo courtesy of www.supashotz.com
Welcome to Lochbrowan Scottish Deerhound Kennel
"A most perfect creature of heaven; of the old North breed-deep in the chest, strong in the stern, black colour and brindle on the breast and legs, not spotted with white but just shaded into grey - strength to pull down a bull, swiftness to cote an antelope."
A description of the Knight of Gilsland's deerhound in "The Talisman" by Sir Walter Scott.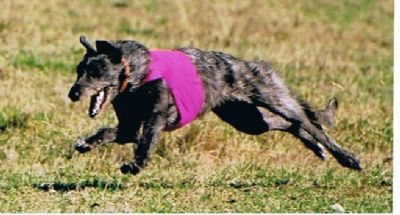 Photo courtesy of Duncan Schilling www.dcshots.co.nz
"An eye of sloe, with ear not low,Â
With horse's breast, with depth of chest,
With breadth of loin and curve in groin
And nape set far behind head:
Such were the dogs that Fingal bred."
Author unknown, translated from Gaelic.
Originally from Scotland, Jenny Nelson wanted to own and breed Scottish Deerhounds all her life. Jenny emigrated to New Zealand in 2001, and now with husband Paul have imported some of what they consider to be the finest bloodlines to New Zealand to establish Lochbrowan Scottish Deerhounds. Their aim is simple. "We want to breed deerhounds that have 3 qualities. Firstly to be great companions and family animals. Secondly to have excellent conformation and be true to the breed standard, and finally to be capable of undertaking their original work".
We welcome visitors, and enquiries about deerhounds.
We are delighted to be members of the NZKC Accredited Breeders Scheme.
Please don't forget to sign our guestbook!!
This website is in its infancy so lots more content to come so keep checking in for news and views.
Breaking News 1 February 2022
Lochbrowan Gwawr (Possum) has just whelped 5 lovely girls and 2 cracking dogs. Email me for more details
We are pleased to have been awarded "Best Scottish Deerhound Website" for 2015 as voted by Vetary.Com.
Vetary analyzed thousands of sites and cross referenced visit data with top Scottish Deerhounds platforms. Our site was apparently a clear winner with U.S. pet owners over the last 12 months. Vetary awards sites with best-in-class content, visuals, and most importantly, a strong cause and devotion toward Scottish Deerhounds. Thanks Vetary.
Once again, Lochbrowan Scottish Deerhounds has won the Vetary Best Scottish Deerhound Breeder Award for the second year running! Gillian Foggle of Vetary (https://www.vetary.com) wrote to us "On behalf of Vetary.com, I want to congratulate you on the Best Scottish Deerhound Breeder Award. Vetary has analyzed top scottish deerhound breeders and cross referenced positive social mention data with top analytics platforms. Your site was a clear winner with U.S. pet owners over the last 12 months. For context, Vetary awards breeders with best-in-class online buzz, content, visuals, and most importantly, a strong cause and devotion toward their breed of dogs". Thanks again, Vetary and all our supporters and followers!!